ROBOTIC RESOURCES
This case study is filed under:
Stäubli Corporation - Robotics in aseptic drug manufacturing
Stäubli Robotics Posted 10/18/2012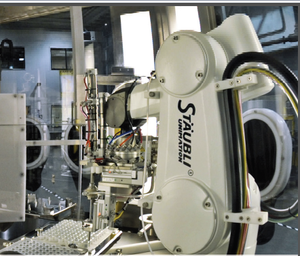 Challenge - Optimizing system safety in RABS and isolators
Pharmaceutical manufacturing presents unique challenges. In order to enhance safety and quality, the industry has adopted Advanced Aseptic Processing (AAP) systems, using automation, robotics, machine vision and separative devices to prevent contamination.
Separative devices include Restricted Access Barrier Systems (RABS) and isolators. Isolator-Barrier Systems and ANSI/RIA R15.06 (safety requirements for robot systems) all focus on restricting operator access to critical areas of machinery.

A RABS or isolator-based robotic system, implemented according to ANSI/RIA R15.06 standards, will provide a robot cell that meets requirements for Advanced Aseptic Processing in the pharmaceutical industry.

Solution - Advanced aseptic processing (AAP)
The Parenteral Drug Association (PDA) describes an Aseptic Process as "The process for manufacturing sterile products by which microbiological contamination is eliminated from the product and product contact surfaces protecting the product from sources of contamination." The challenge for drug manufacturers is to ensure that their manufacturing processes preclude microbiological contamination, particularly for injectable or parenteral drugs, which carry the highest risk.

While operators in cleanroom environments wear sterile garments, they remain the greatest contributor to contamination. A study by Whyte (Whyte, 1998) showed how activity affects particle generation rates with people wearing cleanroom gowning for particles 0.5um in size:

Sitting motionless: 500,000 particles per minute
Sitting with head, arms and body movement: 1,000,000 particles per minute
Walking at 2 mph: 5,000,000 particles per minute
Advanced Aseptic Processing (AAP) utilizes automated technologies such as robotics and physical barriers to eliminate operator intervention with the process, product containers and surfaces. The key is to maintain absolute control of contamination sources.
Download the PDF to read the
RESULTS