Robotics Industry News
"Spring Training" for AMT Engineers
Applied Manufacturing Technologies Posted 06/19/2020
It isn't baseball, but AMT employees have been involved in their own unique "spring training" effort this year to level up their technical skills and stay at the forefront of ever-changing automation technology. This spring, 60 AMT engineers have collectively devoted more than 6,800 hours to participate in over a dozen different classes.
In a recent article, we described how AMT employees have been meeting the challenge of working from home while still maintaining project and deliverables schedules. In addition to their regular work duties, AMT engineers have taken this opportunity to enhance their career development by completing rigorous technical instruction.
Engineering Group Leader Jason Markesino is spearheading the training ef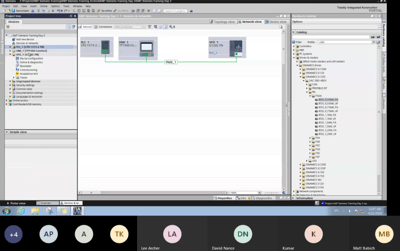 fort for AMT engineers. Jason has created a database of available courses engineers can choose from. "We have developed and are conducting Allen Bradley and Siemens courses that are instructor facilitated. These courses are 40 hours a week for 4 weeks. The first week is instructor led, going through the manual with examples and the remaining weeks are lab-based with instructors available for questions. We set up MS Teams meetings so that students in the class can collaborate and ask questions to each other and the instructor. The courses utilize the PLC and HMI emulators on virtual machines that the students use."
Jason continues, "Most engineers are taking classes from Allen Bradley or Siemens. We have other employees that are training on ABB RobotStudio and are attending instructor-led online classes from ABB."
In addition, Program Manager Greg Allen is furthering the company's project management arsenal with the development of a live Level 1 Project Management Professional (PMP) class held in May 2020. Greg is in the process of developing further training modules which dovetail with AMT's specific processes, procedures, forms, and more.
AMT's Spring Training 2020 Course Lineup
Rockwell Automation/Allen Bradley
Siemens

PLC
HMI
Process Simulate (automation simulation)

ABB

Robot programming
RobotStudio simulation/offline programming

Project Management Professional (PMP)
Parker
RealPars
Inductive University

Ignition Software (HMI development)